Marketing and Branding Services
Gain an edge in the market with our proven strategies! Our team of professionals can create a tailored marketing and branding plan to ensure your business stands out from the rest.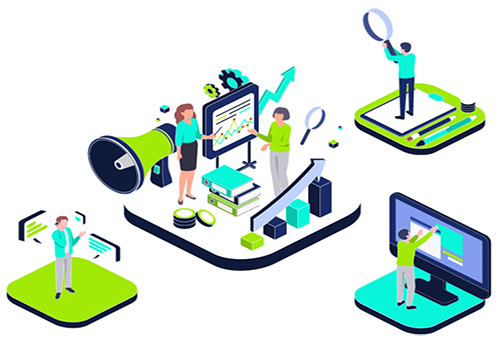 Social Media Management
Amplify Your Brand's Reach and Engagement
Ignite your brand's social media presence with our expert social media management services. Harness the true potential of social platforms to drive meaningful connections with your target audience.
We create engaging content, build loyal online communities, and implement effective strategies to enhance your brand's reach, awareness, and conversions.
Elevate your brand's social media performance and engage with your audience on a whole new level. Partner with us to amplify your brand's presence.
Design Graphic Consultant
Unlock Compelling Visual Identities
Make a lasting impression with our graphic design consulting services. Our team of experts will collaborate with you to craft compelling visual identities that reflect your brand's essence.
We specialize in creating visually appealing designs, impactful logos, and branding materials that resonate with your target audience, ensuring your brand stands out from the competition
Let us transform your brand's visual identity and create a lasting impact. Collaborate with our design experts to unlock your brand's full potential.
Events
Create Memorable and Impactful Experiences
Elevate your brand's presence through unforgettable events crafted by our experienced event management team. We bring your vision to life, delivering memorable and impactful experiences.
From concept development to flawless execution, we ensure every detail is meticulously planned to leave a lasting impression on attendees and drive meaningful connections.
Partner with us to create remarkable events that captivate your audience and elevate your brand's reputation. Let's make a lasting impact together.